About Geronimo Solutions
Geronimo has developed several unique platforms that help businesses easily connect with non-profit organizations. Business owners are able to leverage the promotional power of non-profit fundraising events, while non-profits raise more money each year.
Geronimo's platforms enable golf courses and resorts, golf management companies, vacation rental managers, golf professionals, cruise lines, restaurants, retailers, and instructors to leverage the promotional reach of tens of thousands of non-profit organizations to help promote their unique experiences.
More than 5,000 non-profit organizations have created accounts on Geronimo's straightforward "Travelpledge" fundraising solution. More than $10M per year in fun experiences is now available to participating non-profit organizations. Each participating non-profit is required to promote the generous business owners that donate some or all of the proceeds.
---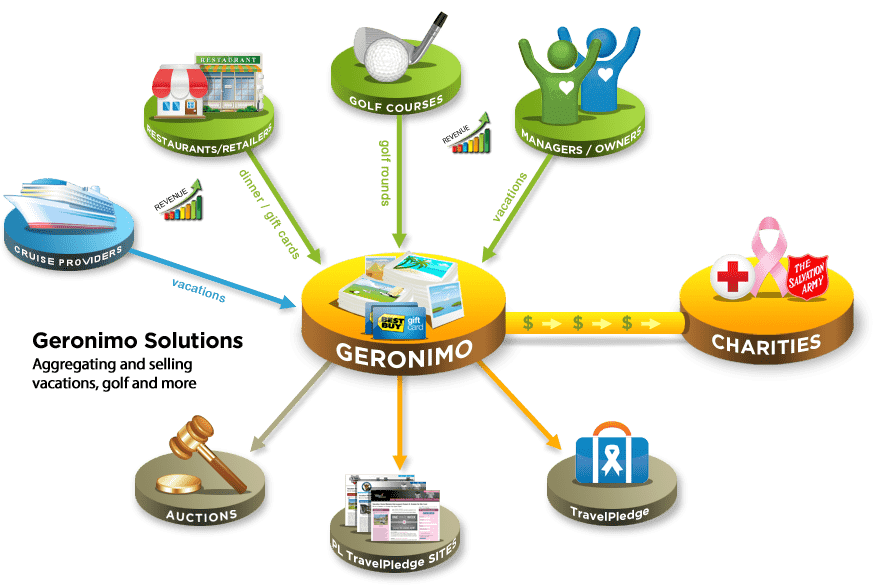 Cruise Providers
We make it easy for cruise lines to reach an affluent audience; avid supporters that attend black tie galas and visit private label non-profit websites. Also added incremental revenue.

Retailers / Restaurants
We have an api that ties into a major gift card provider. Our solution can completely handle gift card distribution to non-profits for major retailers and restaurants.

Golf Courses and Resorts
Our solution (OneSpareTeeTime) completely automates the process of supporting non-profits. Participating golf courses are automatically promoted at fundraising events and on private label fundraising websites.

Vacation Providers
We provide automated solutions for vacation providers to promote their businesses and fill slow season weeks. Focus is on last minute and off season availability and ensuring rate integrity.

Non-Profits
Non-profits enjoy free access to all of the tools to help convert a huge selection of fun experiences into donations. Full tracking and reporting, automated promotional flyers and integration opportunities.

TravelPledge
"Fun lovers" and can now support their favorite cause by playing golf, taking a golf lesson or even going on a vacation or cruise.

Private Label Websites
We build custom private label websites that feature $Millions in vacations, golf, lessons, cruises and more. Non-profit leaders and event organizers enjoy free access to all of the tools.

Fundraising Auctions
We provide non-profit leaders with fun experiences along with all of the tools to help convert those experiences into donations at silent / live auctions and raffles.

Aggregated Experiences
Geronimo Solutions aggregates $Millions in fun experiences that can be converted into donations.
---